Wesley Snipes
"Most Prominent Tax Prosecution In Two Decades"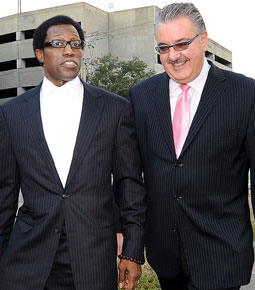 In what the NY Times called "the most prominent tax prosecution since Leona Helmsly," actor Wesley Snipes was acquitted of the most serious charges against him.
The star of "The Blade" trilogy was found not guilty on two felony charges of conspiracy and fraud for filing a false claim for a $7 million refund, as well as on three misdemeanor charges. He was convicted on three lesser charges of failing to file tax returns.
Had Snipes been convicted of the felony counts, he faced 16 years in prison.
Attorney Robert Bernhoft's successful defense portrayed Snipes as a well-intended victim of bad advice who was simply questioning the IRS about his tax obligation. During Bernhoft's closing arguments, newspaper reports said courtroom spectators were in tears.
"We talked about how the Liberty Bell might have been cracked in Philadelphia, but could still be heard in Ocala (where the trial was held)," Bernhoft said.
"Some people still care about those old-fashioned rights — like being able to ask your government questions without being rewarded with a federal criminal indictment."
Bernhoft's defense surprised many observers, who had expected Snipes to present himself simply as an income tax protestor. "Mr. Snipes defense was handled quite well," wrote Russ Fox, a tax blogger with Clayton Financial and Tax of Irvine, California.
The felony acquittal was the second headline-making case Bernhoft Law successfully handled for Snipes. Several years earlier, Bernhoft represented him in a criminal paternity suit that was dismissed.
Video Case Study: Wesley Snipes
Setting the Stage
WFTV's exclusive interview with Robert Bernhoft led off all its top-rated newscasts on the eve of the Snipes trial. In this clip, Bernhoft is allowed to correct misinformation heavily circulated by federal prosecutors before the trial. Bernhoft then extensively articulated the defense themes that would be given in the next day's opening trial argument — a major theme being that Snipes was a true American who always wanted to work with the government to solve his tax matters BEFORE the trial.
Prosecution Rests
On the day that the prosecution trying Wesley Snipes rested its case, Wesley Snipes spoke for the first time during the trial to one reporter – from WFTV. Four times in the report, the defense allegation that that the government's case was incredibly weak was repeated by the WFTV reporter — and even the news anchor.
A Stunning Development
In what's commonly referred to in legal circles as a "penthouse or outhouse move," the defense for Wesley Snipes rested its case without calling a single witness or presenting any evidence to refute the government's case. As the WFTV reporter said in the lede to his piece: "The defense decided the case was so weak they didn't have to call a single witness."
Victory
Thanks to local media interrupting its newscasts with an announcement that the Snipes jury had reached a verdict, three thousand residents of Ocala greeted Snipes an hour later as he walked out of court a free man after being acquitted on all felony counts in his tax trial.
Lead Trial Counsel Robert Bernhoft's Pre-Trial Interview
Wesley Snipes' lead defense trial counsel, Robert Bernhoft, gave an exclusive interview with Emmy award-winning journalist Steve Barrett prior to the trial. This extensive interview previewed Bernhoft's media and trial strategies – strategies that would ultimately secure jury acquittals on all of the felony tax and conspiracy charges against Snipes. This pre-trial interview provides a rare opportunity to hear the candid thoughts of one of America's leading trial attorneys on media impact, jury selection and composition, and defense strategies in federal criminal defense cases.
Snipes' Lead Trial Attorney Robert Bernhoft Interviews with NPR After the Trial
Several months after Attorney Robert Bernhoft obtained jury acquittals on felony tax and conspiracy charges for movie actor Wesley Snipes, Bernhoft interviewed with National Public Radio's Claude Brodesser-Akner in his Los Angeles Studio. The interview delves deep into the challenges Bernhoft faced in crafting and executing his winning trial strategies. The audio is overlaid with slideshow pictures, many from Bernhoft's own photo collection which have never been published before.
(The interview starts at 0:00 to 0:35; then picks up again at 3:25 and goes to 24:15)